DRINKING WATER TREATMENT- PRINCIPLES & INSIGHTS, by Dennis Wanless
Order Form to Print Out and Scan Below, Email to waterandwastewater@denniswanless.com:
Order Form to Mail/Email/Fax/Scan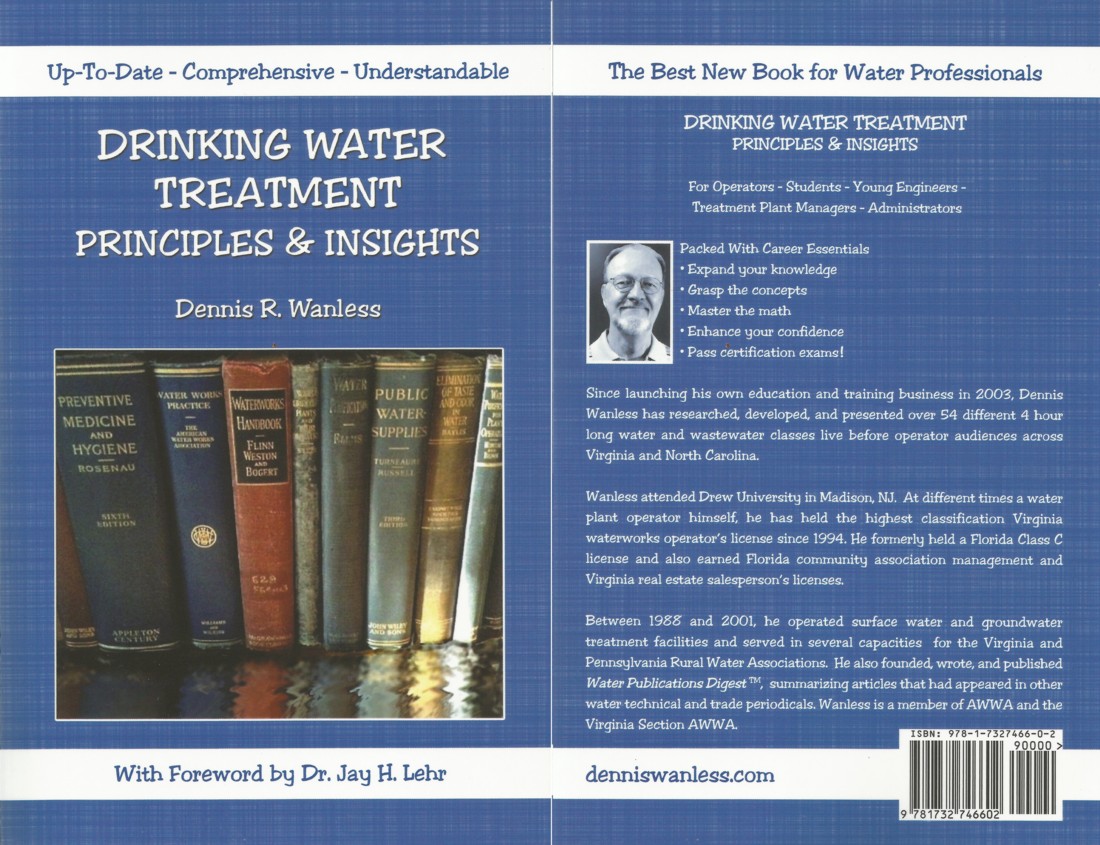 Stay-At-Home Sale continues, was $109, Now
$69!

See below to order and for more information. Have you read Dennis's letter to the editor in the July 2021 issue of Treatment Plant Operator (TPO) magazine?
click here
Also, read Dennis's article in Water World, August issue: click here
See Review in WaterWorld:
click here
See Review in Journal AWWA:
click here
See Review in TPO Magazine:
click here
"Wanless has done an excellent job on this book. It is practical, comprehensive, and understandable for the target audience. The book is not over simplified or glossed over. There is a ton of good need to know information. If the water plant managers, operators, and regulators understood all of it, they would be in very good shape. " Dr. Joseph Cotruvo, Joseph Cotruvo & Associates, LLC, Washington, D.C.
Drinking Water Treatment - Principles & Insights is a concentrated edition of Wanless's vast experience on the subject. He lives and breaths water, both working in the industry and devouring as many 50-100-year old texts on water and chemistry as he can find. His book and the continuing education classes he presents continue to demonstrate his ability to make the complex understandable. I know no one more knowledgeable on this topic. What a great resource! Russell Carolla, Clear Waterworks, LLC, Manassas, Virginia.
"There is a great need for individuals who have the knack of making the complex, clear, and the apparently simple, nuanced.

Few commentators live up to that fairly straight-forward mandate. Wanless does. His book IS giving back, and, moreover, it is a meditation on a transcendentally important topic. " Kenneth DeVille, Ph.D., J.D., Brody School of Medicine, Eastern Carolina University.
"Mr. Wanless has put together a clear and concise reference that is a "must-have" for anyone in the water treatment field. Operator trainees and seasoned veterans alike will benefit from the comprehensive presentation of the material necessary to be successful in passing the licensing examinations." James E. Didawick, Superintendent of Public Works, Town of Woodstock, Virginia.