Hello ASHLAND, VA! January 22-23, 2020 - Seats Available!

YES!!! ALL of our classes are for

BOTH WATER AND WASTEWATER CPE HOURS!
WATER CPE LICENSE CYCLE: MARCH 1, 2019 THROUGH FEBRUARY 28, 2021
WASTEWATER CPE LICENSE CYCLE: MARCH 1, 2018 THROUGH FEBRUARY 28, 2020 tick tock tick tock!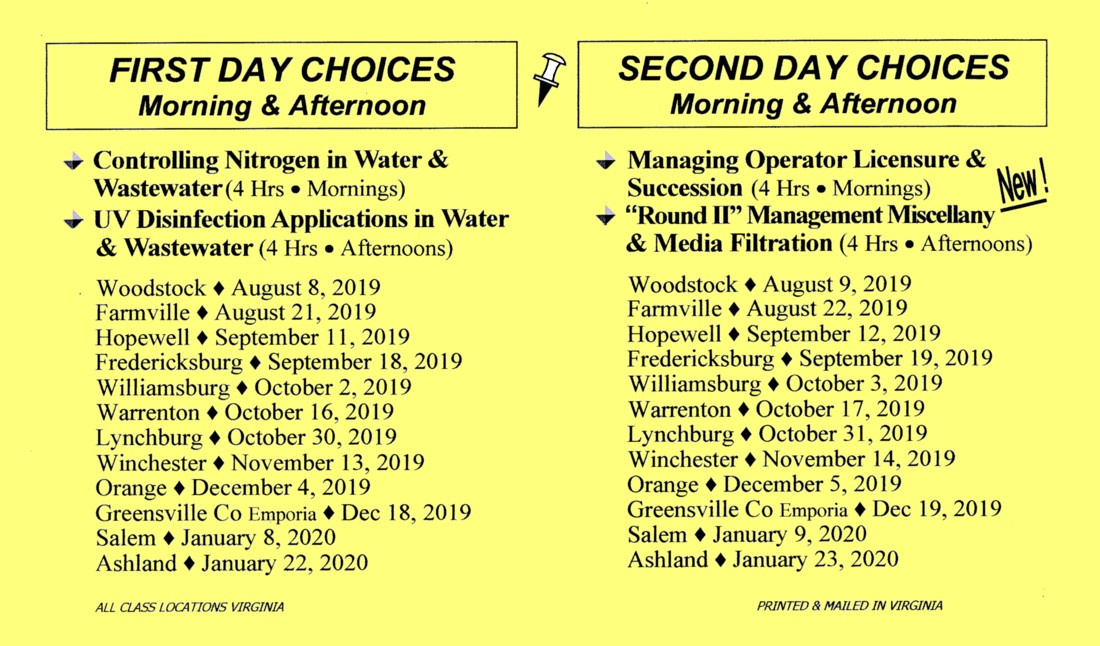 Brand New Class Testimonials:
"A good teacher, like a good entertainer, first must hold his audience's attention, then he can teach his lesson. I think that Dennis Wanless has this down to a science. Thanks again for all you do!"

"Honestly, content is good, breaks are frequent. Examples and stories fill in the in-between. I look forward to attending these classes. Don't know that I would change anything!"
"Nitrogen was a perfect subject - the nitrogen footprint is the new hot topic in the environmental world! Excellent job of explaining the nitrification and de-nitrification processes. UV class was better than expected!"
Click here to request flyer/registration page